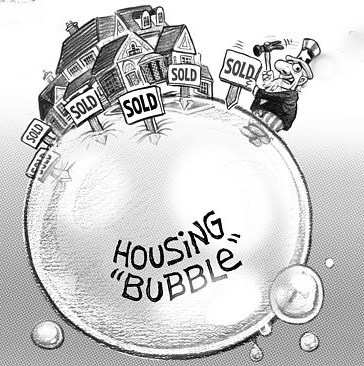 Currently we are having a Platt Park Spring like no other for the housing market.  
What's it like out there now? For the last decade spring in Platt Park has meant plenty of homes coming on the market for sale and buyers lined up to buy them.  Not so much this year by a considerable margin.  So far, we've seen just a trickle of homes for sale.  Overall mortgage demand is down 44% over a year ago.  What gives?
The issue comes down fairly simply to high mortgage rates that are hovering in the upper 6% range.  That is having the double effect of keeping many buyers on the sidelines and making sellers hesitant to give up their current 3 or 4% mortgages by selling.
Should we fear a housing bubble that is about to pop?  Nope, not at all.  In the last 50 years the US housing market has only experienced one significant bubble bursting and that was in 2008 during the "Great Recession" which lasted three years.  That was all tied to shaky lending practices that lenders had been allowed to employ for the previous decade creating something of a house of cards as mortgage backed securities ran into serious problems.  Those issues were addressed and the current situation has none of those weak underpinnings.  Overall our economy is robust and healthy.
I might add that during the recession home values in Platt Park and Washington Park actually rose by about 10% during those three years so even then there was no bubble to burst in our neighborhood.  It is possible as this year goes along we might see a little dip in prices but so far that is not what the data is pointing to and a little dip is not a bubble bursting.
Are there any silver linings?  Yes, absolutely! First, the homes that are being put up for sale are selling rather easily and quickly and we've not seen any significant price drop from a year ago.  That is great news if you have to sell.  The super low inventory is working in your favor.  Sure there are fewer buyers right now but it seems there are more buyers than inventory so we still have something of a sellers market going on.
Secondly most all economic indicators project interest rates dropping as the year goes along.  Many projections anticipate mortgage rates moving down to the lower 5% range by the fourth quarter of this year.  I expect once we cross the 6% mark, we'll start to see activity surge as there is considerable pent-up and growing pressure to both sell and buy out there.
So what should you do if you need to sell or buy?  On the sell side I see no strong reason to wait as the market environment is fine for selling.  You'll get it done fairly quickly and for a great price.  The buy side of course is trickier with higher interest rates.  If you have the luxury of delaying then time should work in your favor with rates coming down.  If you have to purchase now you'll have to use current interest rates but talk to your lender.  Many lenders can work a deal to refinance you once rates drop for lower than normal fees which might be the best way to go.
One thing is for sure, like the weather, if you don't like the current environment then just wait a little bit and it will change.  The real estate market is always moving and changing.  I expect the market will gradually improve for both sellers and buyers in the months ahead.
Give us a call, we'd love to discuss your particular situation and help you come up with a plan for your real estate needs. 
See you around the neighborhood,
Tom & Denise Snyder