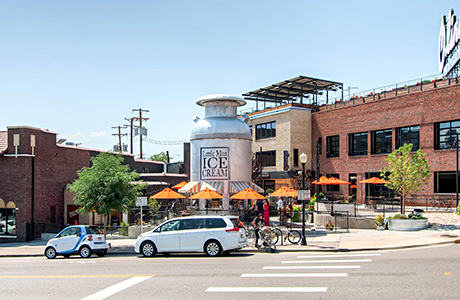 Highlands/Lohi is Denver's latest "it" place to be. Three diverse commercial districts; Lower Highlands (Lohi), Highlands Square (Highlands) and Tennyson Street (Berkeley) make the Highlands Denver's largest and perhaps most dynamic neighborhood.
Lohi, just northwest of downtown has experienced amazing growth and transformation over the past few years, and is overflowing with trendy restaurants, bars, and shops. It is also the gateway to downtown just across the I-25 freeway. Much of the surrounding neighborhoods have been transformed to include contemporary row homes and condominiums but you can still find classic turn-of-the-century Bungalows and Victorians. The areas surrounding Highlands Square and Tennyson are made up of stately old tree-lined blocks with turn of the century Bungalows and Victorians. The area is filled with award-winning restaurants, small privately owned shops and galleries. Combine all this with numerous parks, access to bike trails and a host of other amenities and you have a wonderful small town look and feel all of which happens to sit right next to a great city. A perfect combination.
Give us a call and we'll help you make it your home!
The Highlands and LOHI Properties
---