Tom & Denise Snyder
Snyder Realty Team
Owner and Managing Broker
Platt Park & Washington Park Specialists
Snyder Realty Team
1598 South Lincoln Street
Denver, Colorado 80210
About Tom & Denise and the Snyder Realty Team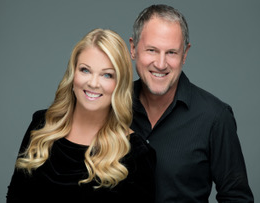 When we were both growing up the entire metro Denver area population was less than 400,000. It's been amazing to watch Denver grow to become now a cosmopolitan City of nearly three million. Obviously many have discovered what a great place this is to live, work, play and raise a family. Those streets we knew in our youth are now considered the old classic Denver neighborhoods where we now specialize in our real estate business.
We love living currently in the Platt Park/Washington Park neighborhood with its blend of turn-of-the century homes, wonderful embedded commercial streets with their quaint shops and restaurants, easy access to Downtown and pretty much anywhere you want to go. The renaissance of Denver that has occurred in the past twenty years has made these some of the most desirable places to live in all the metro area. Buying or selling these homes takes a unique knowledge and expertise as every home and block is unique unto itself. Although no longer practicing, my (Tom's) background as a Civil Engineer and homebuilder comes in handy when working with these 100 year old vintage homes.
We are in the top 1% of all Realtors in Denver and regular recipient of the 5280 Magazine 5-Star Professional Award. After being, for many years the top agents in one of the largest Denver real estate firms we decided in 2017 to start our own company Snyder Realty to better serve you, our clients. Contact us and see for yourself how we can make your home buying or selling experience a pleasant and profitable one. But don't take our word for it; check out what others have said about their experience working with us in the testimony section of this website.
Tom & Denise Snyder
Broker Associates
Snyder Realty Team
Highly likely to recommend
07/24/2021 - hansentiffany303
Sold a single family home in 2020 in University, Denver, CO 80210.
We highly recommend the Snyder Realty Team. Tom was easy to work with, knowledgeable about the market, priced our house to sell while also being approachable, available and receptive through the process. It pays to have a qualified expert on your team while selling your home and Tom was definitely that expert. We highly recommend the Snyder Realty team.
Highly likely to recommend
07/23/2021 - patrick11swanson
Bought and sold a multi family home in 2021 for approximately $1.350M in Speer, Denver, CO 80209.
Tom Snyder is the best in the business. Over the past 6 years he has helped me and my family close 6 real estate transactions in some of the most desirable Denver communities, including Washington Park. I trust Tom and his team to protect my interests and he has never failed to deliver. I not only consider Tom a great business partner but an even better friend. If you are sincerely looking at purchasing or selling a home in Platte Park or Wash Park, Tom is your professional partner.
Highly likely to recommend
04/10/2020 - sharon9675
Sold a single family home in 2020 for approximately $700K in University, Denver, CO 80210.
Tom sold my Platt Park home that I lived in and loved for 34 years. He knew exactly what we needed to do to get my house ready for the market. I followed all of his suggestions, and the house sold the first weekend it was on the market, just as he thought it would. Not only were his real estate experience and knowledge of the neighborhood invaluable, his empathy, patience, calm demeanor and listening skills were key to his success (and therefore mine) in finding the right buyer. It was such a pleasure to work with Tom, and I cannot recommend him highly enough.
Highly likely to recommend
02/28/2019 - zuser20140615150233409
Bought and sold a single family home in 2018 in University, Denver, CO 80210.
We talked to multiple realtors before deciding to work with Tom Snyder at the Snyder Team Realty. I am so glad we did! We needed someone to help us sell our old Platt Park Victorian property and help us get into a newer home in Arvada. Tom was fantastic from the moment we sat down to talk to him about our goals up to the completion of the last detail. I immediately trusted him and felt very comfortable with our decision.

Tom is patient, thorough, calm and kind. He inspired confidence with his extensive experience and sound advice. Tom is the kind of guy who will explain situations and options in plain language without condescending to those without his expertise. Through every question, he helped us with sound, objective guidance. Tom is a no-drama professional with a pleasant demeanor. I can't imagine anyone meeting him without growing to like and respect him as a person.

Tom and his transaction assistant kept us informed every step of the way through two closings. They were on top of everything to ensure nothing was missed. Conclusion: We did sell our house the first weekend it was listed. We also found the right home in Arvada and just finished our last closing. My husband and I wanted to provide a reference for anyone else looking to find the right realtor. I have no hesitation is recommending Tom Synder. Thank you Tom for getting us where we wanted to be!
Highly likely to recommend
07/01/2018 - maxwell washburne
Bought a single family home in 2018 for approximately $525K in University, Denver, CO 80210.
Tom was so helpful and supportive in helping us find our house. As first time home buyers we had lots of questions and Tom was incredibly patient. The house we ended up buying wasn't initially on our radar but Tom showed it to us because he thought it would be a good fit and we love it! Also Tom was always super available for showings any time of day and on short notice.
Highly likely to recommend
06/29/2018 - zuser20170111202507578
Bought a single family home in 2018 for approximately $600K in University, Denver, CO 80210.
Tom was fantastic to work with! My wife and I were looking to buy our first house in a pretty competitive area. At every instance it was obvious that Tom had tremendous knowledge of the neighborhoods to help us make appropriate offers. Along the way there were a number of times we had questions or wanted to clarify things. Tom always made himself available and made sure we got what we needed. He also has great empathy and insight as to what we, as buyers, we going through mentally and emotionally. We felt as though we were in great hands from the very first meeting to the closing table, and know we can always reach out should we need anything in the future. Thanks Tom!
Highly likely to recommend
05/03/2018 - jess r jacobs
Bought and sold a home in 2017 in University, Denver, CO 80210.
The Snyder's have sold us two homes in the Platt Park neighborhood and another in Castle Rock, to say we trust them with these transactions is an understatement. We were in a very competitive price point this last time around and we knew that it was going to be tough to find what we needed for our growing family in our desired location in Denver. When they told us about a home they thought would be perfect for us we made an offer AS IS and UNSEEN and got the contract before it hit the market! It was beyond perfect for us and we couldn't have done it without them! They are truly experts in the area and beyond!
Highly likely to recommend
08/08/2017 - florenceswanson11
Bought a single family home in 2016 in Speer, Denver, CO 80209.
Tom and Denise are the best. We were moving from Arizona, and I did a lot of research online for all sorts of realtors. My priorities were a company or individuals who really knew Denver. I wanted someone who had grown up here, or been here a long time, and Tom and Denise fit that to a tee. They know each city, each area, which parts of town would fit our needs, and most importantly which areas that would not fit our needs. We knew buying an older home was likely, and Tom is a former engineer and could also give us great advice on what to look out for in an older home. We contacted them and it was wonderful how they listened and then set us up to have a daily feed of any homes that fit our criteria. We looked forward each night to looking at homes in our budget and in our desired area. They were always quick to respond and we flew in several times to look at homes and finally were able to snatch one up! What a crazy market Denver is! The process and professionalism were wonderful, and the closing and details moving from another state were handled so well for us. They are very calm, sincere and honest communicators. We dealt directly with Tom and he was there for all meetings, house showings, etc. I really liked that it was a personal direct relationship with the realtor. That was very nice, as living in another state during the home buying process adds some stress to life! Since the , our son also used Tom and Denise to purchase his first home, and now our daughter is going through the same process! We have obviously have real trust in them and their knowledge of all areas of Denver and where to help these young people find a house they can afford, but also in a safe area, and also wanting the hip parts of town! I give Tom and Denise 5 stars--!
Highly likely to recommend
05/19/2017 - patrick11swanson
Sold a single family home in 2016 in Speer, Denver, CO 80209.
We moved to Denver two years ago with a clear desire to move into a classic walking community like Washington Park or Platte Park. We did our homework when researching our realtor options and all signs led to Tom & Denise Snyder. Understanding the uniqueness that is Washington Park in terms of inventory, market drivers and structural considerations were extremely important. Tom & Denise have lived in this community for quite some time. They have purchased a renovated a classic park home during this time and Tom adds an engineering degree to complement their combined real estate expertise. When you start thinking about taking on a 100 year old home, it's nice to have these professional attributes behind you. When you are selling a classic park home to a potential buyer that does not have the understanding of the park's market uniqueness, Tom & Denise can help educate all involved and remove some of the uncertainty. We are extremely pleased with the service Tom and Denise provided and would highly recommend them to anyone looking at purchasing or selling a Washington Park or Platte Park home.
Highly likely to recommend
05/19/2017 - akgronowski
Sold a single family home in 2017 for approximately $1.075M in University, Denver, CO 80210.
We interviewed 4 realtors and chose Tom. We felt most comfortable with him and he brought the best research for pricing our home at the top of the market. He helped us get our home is sales shape on a budget. We received strong interest immediately and went under contract in less than two weeks. I highly recommend Tom!